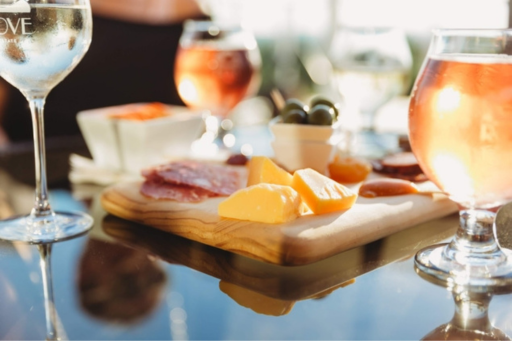 National Wine Day is a great day to show your love for wine. Whether you're a lover of reds, prefer whites, or like to try a bit of everything, National Wine Day is all about the enjoyment of a good bottle of wine.
So to help, we've put together a list of different ways you can celebrate on May 25th.
Let's get ready to take a sip for National Wine Day!
Have a wine-tasting party
Putting together a wine-tasting party is a fun way to enjoy National Wine Day with family and friends. And it allows you to try out a variety of wines – and maybe find a new favorite!
To set up your wine-tasting, select 3-5 different wines. Think about selecting different varietals, regions, and vintages to explore new flavors and aromas.
For the tasting, you can provide your guests with wine-tasting cards that allow them to write their impressions – like aroma, taste, and finish. And help them remember which they liked the best.
Also, don't forget to check you have enough glasses! You'll want smaller glasses for white wine and larger, wider glasses for red wine. And when setting out your wine flights, have glasses of water your guests can use to cleanse their palate between wines. 
It's also a good idea to have some snacks or appetizers for your guests to munch on. Think bruschetta or charcuterie boards. These are easy to grab, and you'll only need small snack plates for your guests.
Have a picnic
Take the afternoon of May 25th and enjoy a relaxing lunch outside. Find a grassy spot at the local park or your favorite place to people-watch. Whatever view that brings you pleasure as you enjoy your favorite wine. 
When packing for your picnic, build your lunch around the bottle of wine. Need some ideas? Check out our different wine & food pairing guides for inspiration:
Cook with wine
There are lots of classic, yummy dishes that call for wine. And maybe it's time to try one of these dishes out for National Wine Day.
But you don't want to cook with just any wine. Select a good wine since it will add depth and complex flavors to your meal. 
You could try Coq au Vin. It's a French dish of red wine, chicken, bacon, and mushrooms. Or try another classic French dish like Beef Bourguignon filled with beef braised in red wine.
Looking for something to cook with white wine? Try out this risotto that uses white wine to add acidity and flavor. Or mussels in white wine sauce – which is simple, delicious, and light for summer.
Have a wine movie night
Choose a movie that features wine as a theme and enjoy a glass of your favorite wine while watching the movie. 
A few good picks are Sideways, Bottle Shock, or Wine Country. If you prefer a documentary, check out Somm or Red Obsession. 

Visit a winery
National Wine Day is a great time to visit a winery – especially if it's something that's been on your bucket list!
Take a tour of a winery to learn more about the winemaking process, taste delicious wines, and even buy a bottle or 2 to take home & enjoy.
If you can't make it to a winery, check out your favorite winery's website and join their wine club. 
At Rove Winery, we have our exclusive Rove Nation Wine Club. As a member, not only do you get first access to our new wines, but your membership supports the growth of the farm. 
Join Rove Nation today. And every day will feel like National Wine Day. Sláinte!