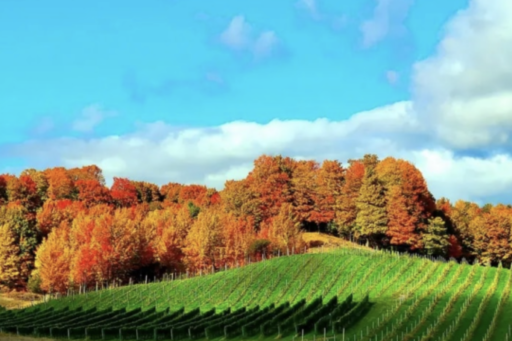 Fall in Michigan is a magical time. The leaves transform to vibrant shades of red, orange, and gold, filling vista views with rich colors only autumn can deliver. And one of the best ways to savor fall is with a fall wine-tasting and color tour!
Michigan's wineries come alive with the promise of an unforgettable fall experience during this vivid transformation. And a fall wine and color tour is a feast for your senses. 
Imagine strolling through vineyards with the crisp air and breathtaking foliage while sipping wines that complement the scenery. Crisp whites that pair with the cool autumn air to bold reds that mirror the warmth of the changing leaves. They all work in harmony to bring you the flavors and aromas of fall.
To make your fall wine-tasting and color tour a success, we put together a few wine-tasting tips. Because we want you to get the most out of your fall experience!
7 Wine Tasting Tips for Wine Tours
Pace yourself
Depending on the area you're visiting, there can be LOTS of wineries for you to experience. 
For example, the Leelanau Wine Trail in Michigan has 24+ wineries on the peninsula and over 40 in the Traverse Wine Coast region. That's a lot of wine to try!
So it's important to break up your visit and not visit more than 4-5 wineries a day. This way each winery visit feels like a singular experience with you fresh and excited (versus tired and drained).
Dress appropriately
Tasting tours can involve walking through vineyards and wine cellars, so wear comfortable shoes and clothing. Because you don't want to miss a moment of the legendary fall foliage worrying about aching feet.
And don't forget to check the weather. Fall means cooler days, so Rove Winery recommends warming warm layers like a coat, sweater, and scaf. Many of our Northern Michigan tasting rooms feature beautiful outdoor areas where you can fully enjoy the crisp autum air – and you don't want to miss out!
Don't forget to eat
All the walking and wine tasting doesn't do well on an empty stomach. So drink like a European, and make sure to eat before and during your wine-tasting tour. Most wineries offer a small menu you can order from. 
At Rove Winery, we offer charcuterie and other locally crafted small plates that compliment the aromas of our wines and fall. Scents like fallen leaves, ripe apples, and the earthy richness of pumpkins.
Tasting the wine
When it comes time to taste the wine, here are a few tips to keep in mind:
Avoid wearing strong perfumes

, colognes, lotions, or other scented products

.

These scents can interfere with the aromas of the wine.

Hold the glass by the stem

to prevent your hand from warming the wine.

Sip – don't gulp – the wine.

Small sips allow you to savor the flavors.

Use the dump buckets to discard any excess wine

you don't finish from the sample.

Drink water to cleanse your palate

between wines and stay hydrated.

Keep your phone on silent

to allow yourself and others to immerse yourselves in the wine-tasting experience.
Spit or savor
It may seem odd, but spitting during a wine tasting is both acceptable and encouraged! Spitting out a wine after sipping it allows you to taste many wines without becoming intoxicated.
The winery will provide spittoons for you to use if you choose to spit.
Drink responsibly
If your preference is to savor the wine, do it responsibly! It's important to stay safe and have a designated driver or alternative transportation setup. 
If you're the designated driver, Rove Winery offers multiple non-alcoholic drinks. We want you to feel comfortable and enjoy your visit to our family's estate too!
Fall wine tasting and color tours are an experience you don't want to miss!
There's an undeniable romance to autumn, a season that calls people to gather and celebrate life's simple pleasures. Between the breathtaking views painted in autumn colors to the scents of crackling fires and ripe apples, it's a memorable experience.
And we hope these wine-tasting tips make it an experience you'll want to create again and again!
As you plan your fall wine-tasting color tour, be sure to include a visit to Rove Winery at Gallagher Estate in Leelanau Peninsula. 
Discover the magic of fall in every sip, aroma, and view only Rove Winery can offer. Book your fall wine tasting and color tour today!
We can't wait to see you there.
Slainte!